Recently Announced Shows
April 8, 2018 @ 7:00 pm

December 1, 2017 @ 7:00 pm

December 2, 2017 @ 12:00 pm

December 6, 2017 @ 8:00 pm

December 3, 2017 @ 12:00 pm

December 7, 2017 @ 10:30 pm

December 6, 2017 @ 7:00 pm

November 8, 2017 @ 7:00 pm

November 2, 2017 @ 10:00 pm

December 7, 2017 @ 8:00 pm

November 20, 2017 @ 7:00 pm

December 23, 2017 @ 8:00 pm

May 11, 2018 @ 8:00 pm

October 29, 2017 @ 1:00 pm

December 2, 2017 @ 5:00 pm
LeaguePodcast Presents:
Koo Koo Kanga Roo
Pop | Dance
Sat
November 18, 2017
1:00 pm
EST
(Doors:

1:00 pm

)
Sonia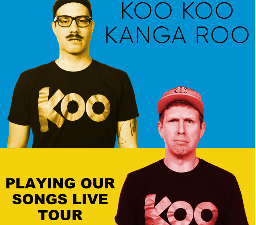 All Ages
$15.00
MATINEE: LeaguePodcast Presents: Koo Koo Kanga Roo - All Ages, Kid-Friendly Show, $15 *NOTE: 1pm Doors
Koo Koo Kanga Roo is a band/comedy duo/workout franchise who are on this planet to make you dance while laughing so hard that milk comes out of your nose. Whether you're getting sweaty at their live show, listening to their concept albums or moving to their dance-a-long videos, Bryan and Neil just want to make sure you're having a blast.
Koo Koo Kanga Roo
Pop | Dance
Koo Koo Kanga Roo is a live show unlike anything you have ever experienced. With the carefree simplicity of your kindergarden days, a Koo Koo Kanga Roo party is a family fun dance extravaganza for kids and adults of all ages! The undeniable urge to move your body will lead you to the dance floor as you hear their catchy pop melodies and infectious dance beats. Their live show is jam packed with zany sing-alongs and choreographed group dancing that is guaranteed to have the crowd on their feet and engaged in the fun!
*ALL SONGS ARE 'Pay What You Want' @ http://kookookangaroo.com