Recently Announced Shows
April 8, 2018 @ 7:00 pm

December 1, 2017 @ 7:00 pm

December 2, 2017 @ 12:00 pm

December 6, 2017 @ 8:00 pm

December 3, 2017 @ 12:00 pm

December 7, 2017 @ 10:30 pm

December 6, 2017 @ 7:00 pm

November 8, 2017 @ 7:00 pm

November 2, 2017 @ 10:00 pm

December 7, 2017 @ 8:00 pm

November 20, 2017 @ 7:00 pm

December 23, 2017 @ 8:00 pm

May 11, 2018 @ 8:00 pm

October 29, 2017 @ 1:00 pm

December 2, 2017 @ 5:00 pm
The Middle East Presents:
TIM BARRY, Off With Their Heads (Acoustic), Josh Small
with
TIM BARRY
,
Off with Their Heads
,
Josh Small
Country | Alternative Country Rock | Pop Rock | Pop
Sat
November 11, 2017
7:00 pm
EST
Middle East - Upstairs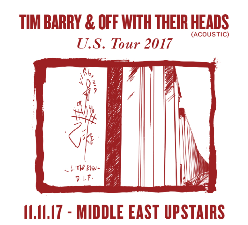 18+ w/Valid I.D. NO I.D.=NO ADMISSION
$15.00
The Middle East Presents: TIM BARRY, Off With Their Heads (Acoustic), Josh Small - 18+ $15 Advance / $17 Day of Show 7:00 PM Doors
Right now, Tim Barry is detoxing. Not from drugs or alcohol, but from
his own music. "When the record's finally done, and the master is
approved, I erase every file that's been sent to me and I throw out all
the CDs with all of the rough mixes. I get rid of everything," says Barry.
And that's exactly where he's at, in the middle of cleanse from his own
work. But on September 8, he'll sit down with his new record, High On
95 (Chunksaah Records), one last time. And like everyone else
listening to it that day, it'll be for the first time. "I generally never listen
to the record again except one time on the day it comes out," says
Barry. "That's when I actually hear the record from the perspective of
the people who are into it." And what those people will hear—along
with the artist himself—is a record that explores the human condition
in classic Tim Barry fashion.
"Slow Down" opens the record and sees Barry tearing at his guitar
strings while weaving a tale about alienation, shame, and getting the
hell out of Brooklyn. His sister Caitlin Hunt's lonesome violin joins him
on his journey, as Barry's burly voice lumbers forth, admitting faults
("I've always been thirsty / I've always been a wreck") but never
becoming defeated. It's a song that sets up the themes that will be
touched on time and again throughout High On 95: Fear, loneliness,
pain, and isolation. But for all these anxieties, Barry never wallows.
Instead, he finds hope in the journey.
"If I'm talking about real life shit, just getting things off of my chest, if
they don't have an element of hope, then there's no use in writing it,"
says Barry. And for every moment that aches with a feeling that
borders on defeat, it's flanked by Barry's perseverance and
unbreakable work ethic. While there's a song like "Running Never
Tamed Me," which Barry says caused his two daughters to break
down crying the first time they heard it, there's a song like "Riverbank,"
which carries a foot-stomping swagger that invites you into the
anthemic ruckus. Against a steady backbeat, vamped piano, and Neil
Young-esque, single-note solos, Barry becomes the ringleader of a
triumphant chorus, guiding his collaborators to the song's apex.

TIM BARRY
Country | Alternative Country
Josh Small
Rock | Pop