Recently Announced Shows
December 14, 2017 @ 10:00 pm

January 20, 2018 @ 7:00 pm

December 22, 2017 @ 10:00 pm

December 2, 2017 @ 10:00 pm

November 30, 2017 @ 10:30 pm

February 23, 2018 @ 8:00 pm

December 20, 2017 @ 8:00 pm

December 15, 2017 @ 8:00 pm

December 14, 2017 @ 8:00 pm

February 10, 2018 @ 7:00 pm

November 17, 2017 @ 10:30 pm

December 3, 2017 @ 1:00 pm

December 5, 2017 @ 7:00 pm

December 8, 2017 @ 9:00 pm

November 19, 2017 @ 7:00 pm
HEROES Presents:
HEROES Presents: DaRk MeEt
with
HEROES Presents: DaRk MeEt
Dance/Electronic | Dance/Electronic
Wed
November 22, 2017
9:00 pm
EST
Middle East - Downstairs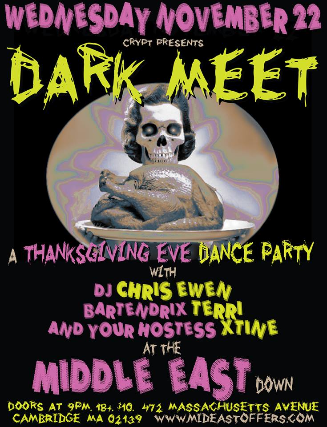 18+ w/Valid I.D. NO I.D.=NO ADMISSION
$10.00
HEROES presents: "DaRk MeEt" - a Thanksgiving Eve Celebration. DJ Chris Ewen ( Xmortis/"HEROES") spins a cornucopia of music you'll really be able to sink your teeth into, but won't leave you stuffed (Goth, Industrial, some dark 80s New Wave). Lounge Bartendrix Teresa Niedzwiecki (Terri) will help you wash it all down with her delicious cocktail concoctions. Your Hostess: Xtine Santackas.
18+ - $10 Advance / $10 Day of Show - NOTE: 9:00pm doors
HEROES Presents: DaRk MeEt
Dance/Electronic | Dance/Electronic