Recently Announced Shows
February 22, 2018 @ 7:30 pm

March 2, 2018 @ 8:00 pm

April 9, 2018 @ 7:00 pm

April 4, 2018 @ 7:00 pm

April 21, 2018 @ 6:30 pm

February 22, 2018 @ 10:00 pm

July 20, 2018 @ 8:00 pm

March 9, 2018 @ 9:00 pm

April 16, 2018 @ 8:00 pm

March 7, 2018 @ 10:00 pm

March 17, 2018 @ 7:00 pm

May 11, 2018 @ 8:00 pm

February 20, 2018 @ 7:00 pm

February 13, 2018 @ 9:00 pm

March 8, 2018 @ 7:00 pm
The Middle East Presents:
Oshun "Bittersweet Tour Vol.1" with Highclass Hoodlums and Oomp
with
Oshun
,
High Class Hoodlums
,
Oompa
R&B | Neo-Soul Hip-Hop/Rap | Hip-Hop/Rap Hip-Hop/Rap | Hip-Hop/Rap
Thu
February 22, 2018
7:00 pm
EST
Sonia
All Ages -- Valid I.D. Required To Drink
$13.00
The Middle East Presents: Oshun "Bittersweet Tour Vol.1" with Highclass Hoodlums and Oompa - All Ages, $13 Advance / $15 Day of Show, 7:00pm doors
Oshun
R&B | Neo-Soul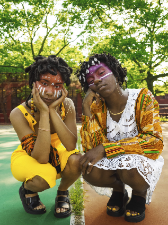 On the convergence of culture, politics, and art - OSHUN's Thandiwe and Niambi Sala have chosen to march to the beat of their own drum. The D.C. natives have coined their own music style (Iya Sol) that is a cultural blend of neo-soul & hip-hop.

OSHUN's message of love, peace, cultural awareness and spirituality has been featured at the Brooklyn Hip-Hop Festival, Kennedy Center, AFROPUNK, Brooklyn Academy of Music, NYU's Clive Davis Music Institute, SXSW, BB Kings in NYC, and throughout Brazil on a sold out summer tour (2017). OSHUN has also been recognized by major publications including Rolling Stone, NPR, Huffington Post, FADER, Complex, and VOGUE.

Their first EP, AFAHYE, served as a four-track introduction of the duo. It featured heavy influences from reggae and roots music. The popular tune "#" (hashtag) sampled A Tribe Called Quest's "Midnight". The tune was an unapologetic declaration intended to incite and educate millennials on social issues.

Their last project, ASASE YAA, was a nod to the past, an acknowledgement of the present, and a glance at the future. By incorporating Yoruba culture into their art, these soul sistars were able to pay homage to their musical lineage and the importance of respecting Mother Earth.

Their upcoming project, "bittersweet", promises to deliver their signature blend of conscious hip-hop soul while sharing where they are in their personal evolution.
High Class Hoodlums
Hip-Hop/Rap | Hip-Hop/Rap
Oompa
Hip-Hop/Rap | Hip-Hop/Rap