Recently Announced Shows
February 22, 2018 @ 7:30 pm

March 2, 2018 @ 8:00 pm

April 9, 2018 @ 7:00 pm

April 4, 2018 @ 7:00 pm

April 21, 2018 @ 6:30 pm

February 22, 2018 @ 10:00 pm

July 20, 2018 @ 8:00 pm

March 9, 2018 @ 9:00 pm

April 16, 2018 @ 8:00 pm

March 7, 2018 @ 10:00 pm

March 17, 2018 @ 7:00 pm

May 11, 2018 @ 8:00 pm

February 20, 2018 @ 7:00 pm

February 13, 2018 @ 9:00 pm

March 8, 2018 @ 7:00 pm
The Middle East presents:
"HEROES"
with
DJ Chris Ewen (Heroes)
Dance/Electronic | Dance
Fri
February 16, 2018
10:00 pm
EST
Middle East - Upstairs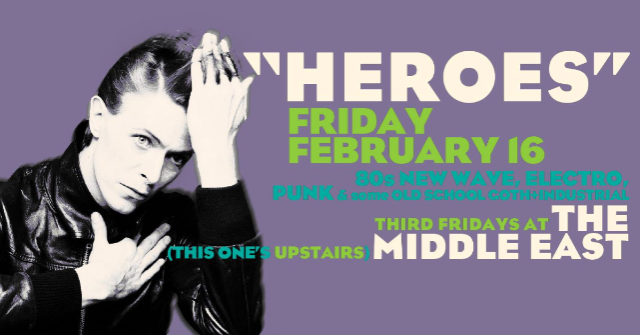 18+ w/Valid I.D. NO I.D.=NO ADMISSION
$10.00
2/16/18 U: The Middle East presents: "HEROES" - 18+, $10 Advance / $10 Day of Show, 10:00 PM Doors
*NOTE* UPSTAIRS, NOT DOWNSTAIRS
"HEROES" falls to Earth on Friday February 16 for our monthly THIRD FRIDAY at The Middle East Restaurant and Nightclub, and this one's UPSTAIRS. LET'S DANCE! DJ Chris Ewen mixes the music: 80s NEW WAVE, ELECTRO, PUNK, & some Old School Goth + Industrial, Mezzanine Bartendrix TERRI (Teresa Niedzwiecki) mixes the cocktails, and Your Hostess Xtine Santackas mixes with you. Tell your friends, and LET'S DANCE!
DJ Chris Ewen (Heroes)
Dance/Electronic | Dance